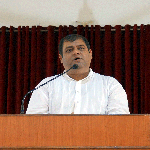 "Invest & Grow where the Lord has put you" by Rev. Vijayesh Lal (24th March, 2017)
Rev. Vijayesh Lal spoke from Jeremiah 29:4-7. His theme was "Invest and Grow where God has put you strategically".
God is saying be fruitful in the land where you are placed as there is a purpose in it as He is in control over everything and every situation. Praise God.