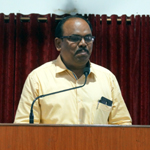 'Importance of Service & Worship' by Rev. Pradeep Mohapatra, (17th March, 2019)
Rev. Pradeep Mohapatra preached on the theme 'The importance of Service and Worship in Church'. This passage portrays 2 important qualities every believer and church should possess to grow spiritually. Martha was focussed on Service and Mary was focussed on Worship.
Today's church desperately needs these 2 qualities to grow spiritually. Unless we have the heart of Service and Worship Him in Spirit and in Truth; we cannot satisfy Him truly. If today your life is in a mess; if your life is in bondage; then come to Christ. Let us Serve and Worship Christ in the beauty of His Holiness; then He can say; this is my house; they are my people.