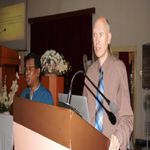 "Image of GOD – defending Christian Faith" by Dr. Steve Ham (Answers in Genesis Seminar, session III), 12-10-15
Dr. Steve Ham spoke the 3rd Session on the subject: "Image of GOD – Defending the Christian Faith".
This was his 2nd session in the morning. Be Blessed as you hear this truths about Creation and God's Word.