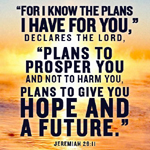 I Have a Plan For You / Tony Evans
Sometimes even the light of day seems to loom heavy on our hearts. However scripture tells us that through the trials, pain and darkness Christ is with us and has overcome.
Seek Him with your trials. Seek Him in your pain. And seek Him in the darkness. He is the Author of our victory, the Hope in the shadows, and the Peace that passes understanding. Rest in the name above all names – Jesus Christ. Only He can fill you full of hope.