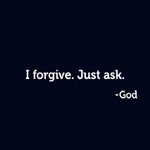 "I Forgive You" – God
Forgiveness is Mandatory. There is joy when you forgive someone. Look, who we are to hold a grudge against anyone when our Savior has forgiven our sins on the Cross. 
Jesus said, I Forgive you and He never wants His children to remain with guilt and shame. When we hold something against someone, it is like letting someone live rent-free in your head. Live a life of Forgiveness and stay in Love.