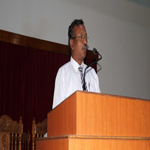 'How to know God's will!' by Rev. Dr. Ayub Chhinchani (20th May, 2018)
Rev. Ayub Chhinchani preached from Acts 9:1-6. His theme was 'How to know God's will for your life!'
1). God's Guidance is Provisional: God expects certain things from us. We should be willing to obey Him; display a spirit of meekness; be open to Him and yield to Him.
2). God's Guidance is Practical: God will reveal His will in ways that will be plain to see and understand. It may be through miracles, through His people, through His Holy Word or through His Spirit.
God has a big plan for your life! Do you know what it is? If not, be meek, teachable, open and yielded to God. Listen for His leading voice in His Word, His people and His Spirit and He will reveal His will unto you – John 14:21.
If you know His will, are you doing it? If not, there is no time like the present to surrender and yield to do the will of God.