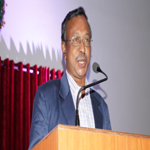 'How to be an Encourager!' by Rev. Dr. Ayub Chhinchani (3rd June, 2018)
Rev. Dr. Chhinchani preached from Acts 4:36,37. He spoke about Barnabas, also known as the 'Son of Consolation'. Are you someone who can build someone up/break that person down! Are you someone who wants to encourage/discourage someone!
There are 3 things we need to do to be an encourager to others.
a). We must learn to Reach Out to others who are in desperate/hopeless condition and those who are broken/discouraged.
b). We must learn to Reach Up. The encourager has an upward ministry. He promotes, praises and participates in the Work of God. He is someone who fulfills his ministry.
c). We must learn to Reach In. The encourager possesses an internal ministry, a ministry to self. He demonstrates Christ by His life and also displays contentment in his life.
God bless as you listen to this message.