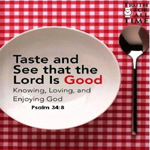 Have You Tasted JESUS? a short Inspirational Video
Have you tasted Jesus? Yes? No?
Taste and see that the Lord is Good. Jesus rose from the dead and He is coming back again. That is an Eternal fact.
Jesus did not came to make bad people good; He came to make dead people Live. Take a listen and start believing on JESUS if you still have not!