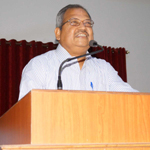 "God's Word is Precious" by Mr. Sanjeeb Kumar Das (23rd April, 2017)
Mr. Sanjeeb Das spoke from Psalm 138:2 b. His theme was 'God values His Holy Word'. The Word of God is the Eternal Truth.
Do you still protest His Word/treasure His Word! Remember, the Church is the extension of Heaven. If we truly value His Word, let us live by it.
How is your Spiritual life today! Time for Retrospection.