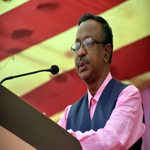 'God's Peace @ Christmas' by Rev. Ayub Chhinchani (17th December, 2017)
Rev. Ayub Chhinchani preached from Luke 2:11-14. His theme was 'Experience God's Peace @ Christmas'. We need to understand that there are 3 types of Peace:
1). Peace with God. It is Spiritual peace/Eternal peace
2). Peace with ourselves. It is Emotional peace/Internal peace
3). Peace with others. It is Relational peace/External peace.
In order to experience God's peace, you need to…
a). Experience Moment of Clarity
b). Experience the attitude of humility
c). Come and connect with God.