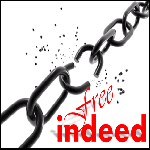 Free Indeed | Tony Evans
Are You Free! Are you Truly Free! Have you received Jesus in your heart today! If not, do so. Do not procrastinate. Do not wait for tomorrow because your tomorrows are not in your hands; it is in HIS.
Remember, Whom the Son sets free is free indeed. Are you Free! Be SET FREE in JESUS' name. You will receive joy and peace in your hearts like never before.