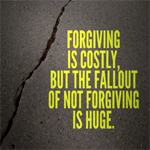 Free from Unforgiveness

Free from Hatred and Anger in Jesus' name
---
Hello Church,
My name is Amar Gaekwad. I am from Nagpur, India. I work for a reputed Electronics firm here. For the last 5 years, I was in living a life of unforgiveness. I am a Christian. I divorced my wife on 2012 as she was into an extra-marital relationship. I lived with anger and hatred for her as she ditched me. Today, she is staying with the person she had a relationship with and they have twins. I feel my life was totally shattered as I married this woman and loved her a lot; but she totally shattered my life. My church people too counselled me many times, but to no avail.
This hatred was killing me on the inside. I was burning with anger when I saw her nearby as she is staying in the same city. On April 20 this year, one of my church believer send me a link on my whatsapp number. I saw that video. It was about an 11 year old girl by the name Mariyam from Iraq. Her life's testimony really touched me. How could she forgive the ones that have made her homeless! How could he forgive the Jihadis and ISIS people who are so notorious. She said, God asks of every human to forgive others and love one another. We have to forgive. And as she was guided by the Holy Spirit; the same Spirit of comfort spoke to me and that very moment, I asked God for forgiveness and the Lord Jesus removed every bitterness from my heart. As I was convicted by the Holy Spirit, I called my ex-wife and said, I forgive you and I have no hatred in my heart for you. Today, I am a free man living a wonderful life and enjoying his peace. Just 10 days back, I got engaged to a beautiful God-fearing girl arranged by my parents and we are getting married in December this year. I have committed my life to God and we both want to start our new life giving Jesus the 1st place in our relationship.
But, it all started with that whatsapp video link send by my church friend. I Praise God for your church for uploading such a powerful testimony on your church website. Truly, Jesus is the Prince of Peace and only Jesus transforms lives. Thank you Church of Christ for bringing me back to Jesus and helping me understand forgiveness through this powerful video.
---
Mr. Amar Gaekwad | Nagpur