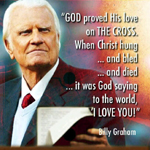 'Finding Eternal Life' by Dr. Billy Graham
I have in my life time never heard anyone quite like Billy Graham who could with so much compassion and love deliver the story of Salvation. He has shared this story with millions around the globe. He is truly a gift to humanity from God.
I am still today brought to tears when I hear this special Man of God preach on the love of Jesus Christ and God's Eternal Plan for the Salvation of Man. Absolutely Compelling! Watch this video. Give your heart to Christ.