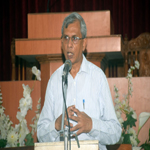 "Family – God's Divine Plan", Couples Retreat (Morning Devotion) by Mr. Paresh Das (25-08-17)
Mr. Paresh Das preached from the first book of the Bible, Genesis. God has formed families and He wants us to glorify Him through our families.
As a husband and wife, when you give Jesus the central place in your marriage, it will prosper, it will blossom and your family will not only experience joy and peace, but they will be a blessing for many.