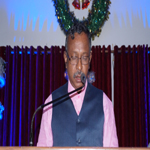 'Fall, but be not Cast Down' by Rev. Dr. Ayub Chhinchani, Midnight Service (31st December, 2018)
Rev. Dr. Ayub preached on New Year's Midnight Service from Psalm 37:23-24. The theme of his message was 'Fall, but not be Cast Down.'
Let us remember: a) God ordains every step we take; b) If we fall, God will not utterly destroy us like Peter, Noah, David in the Bible;
There are 4 Practical applications we see here:
1) Every detail of our life is under God's control.
2) God takes pleasure in our struggle to walk in Holiness.
3) God designs our trials so they will not destroy us.
4) We will not utterly fall because God will not let go.