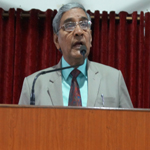 'Do you depend on GOD?' by Rev. Suresh Matthew (28th October, 2018)
Rev. Suresh Matthew preached from Jeremiah 7:1-15. His theme was 'Do you depend on GOD?' Jeremiah preached for 41 years, but no one listened. Finally they were taken captive in 586 BC and Jerusalem was destroyed. Many of us are just busy with activities, but we are not inclined to hear what the Lord says and obey Him.
It is a warning from God today to amend our ways if we are compromising with the world. Let us not trust on the deceptive ways of the world; but let us totally depend on the Lord God. Let us retrospect if are lives is in accordance with God's will!