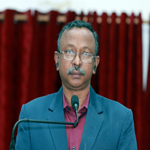 'Do not lose heart' by Rev. Dr. Ayub Chhinchani (20th October, 2019)
Rev. Dr. Ayub Chhinchani preached on the theme 'Do not lose heart' from 2 Corinthians 4:16-18. In this wonderful passage, Paul explains how to serve the Lord with Passion! There are 3 things we see here from Paul's exhortation:
a) An Incredible Statement (16 a): Paul is saying whatever comes my way, I will not faint or lose heart in the Lord.
b) A Familiar Struggle (16 b): Paul says "though our outward man perish". The reason it is so easy for us to lose heart is that the "outer man" is "perishing".
c) A Wonderful Secret: In these verses 17-18, Paul shares his secret of keeping heart even when life turns against him.