Church Events in May 2018
Sunday School Summer Camp held from 27th-29th May
Sunday School Summer Camp was held this year from May 27-29, 2018 here in the Church. Nearly 80 children attended the camp everyday. The program started @ 7:15 am and ended @ 9:45 am everyday. The last day was the day of Inspection where the children were asked questions of all the lessons learned during the 3-day camp. On the last evening, the camp ended with a love feast for the children. We thank the Sunday School teachers and organizers for conducting such a wonderful learning platform for our children. Both our Associate Pastors gave their valuable inputs during this camp. Please pray for our precious children.
---
Local CE Day Celebration by C.E. Union on 28th May
The local CE day was celebrated on 28th May here in the church. They had their usual flag hoisting ceremony in the morning where Rev. Dr. Ayub Chhinchani was the chief guest and he encouraged them through God's Word. Many prominent CE leaders were present on this occasion. Continue to uphold the CE Union in prayers.
---
Prayer for World Evangelism (14th May)
We had a special prayer meeting on Monday, which happens to be our Weekly Church Prayer. In this special Service, we prayed for Evangelization of the entire world. Our focus was on evangelism and it was an occasion to pay tribute to the best known evangelist of our time – Dr. Billy Graham. We listened to a sermon by Dr. Billy Graham titled 'You must be born again.' It was followed by Prayer. It was truly a wonderful moment to listen to Dr. Graham together as a congregation. Those who attended this evening prayer were richly blessed spiritually.
---
Prayer for Mother's Day (13th May)
A mother is the most important part of every family. She holds the family together through her sacrifice and prayer. The Bible says in Proverbs 31:10 – 'Who can find a virtuous woman? for her price is far above rubies.' On 13th May, our mothers were prayed for in both the Worship Service by our Associate Pastors. Let us continue to pray for our precious mothers.
---
Youth Summer Camp held from 10th-12th May
The church conducted a Youth Camp at Puri from May 10 to 12 which was attended by 45 young boys and girls. Our Pastors and Evangelists conducted the various sessions and we believe the participants have returned with renewed spiritual strength. Many lives were changed as they decided to follow Jesus. We had life-changing sessions, group discussions, games (both indoor and outdoor); trip to the beach and also personal quite time with the Lord. We Praise God for enabling our youths to attend such a camp and we also thank the Church Board for conducting such a beautiful and meaningful program for our younger generation.
---
Chain Prayer held on 12th May
Prayer is the heartbeat of any Church. Like every 2nd Saturday, the Chain Prayer was held from 7 am till 12 noon. Various issues were prayed for on this day. It was a time of spending time at the feet of the Lord. Various groups offered prayers each hour. On behalf of the church, we thank and compliment all the brothers and sisters who attended the chain prayer. Please do join again next month for a time of prayer and fellowship.
---
Vacation Bible School held from 1st-8th May
We praise God for enabling us to complete the Vacation Bible School  in our church which was held from May 1 to 8. This year, Mr. Ranjan Pati was the Camp Director. On the last day, the Senior Pastor of the Odia Baptist Church, Cuttack, Rev. Nihar Kumar Bardhan attended as the chief guest in the Convocation. Around 180 children attended the classes every day. We request you to pray that the Lord may continue to speak to the children who attended the program. Various Bible lessons in tune with today's world was given to them. On the last day, the children presented some beautiful choreography and heart-touching skits which they had learned during the course of their studies. Among other children, there were around 20 non-Christian boys from an orphanage here. We are thankful to all the teachers and members of the local committee of the Scripture Union and CSSM for their unstinted help in conducting this program. We are also thankful to the Church Board for conducting such a wonderful program for our precious children. Please uphold these precious children in your prayers as they continue to grow in this world by His Grace alone.
---
Water Baptism held on 6th May, 2018
We are happy to inform you that three brothers and a sister were baptized in water in our church on 6th May morning. They are Mr. Kishore Mallick, Mr. Upendra Naik, Mr. Esak Rao and Ms. Jhunu Rani Digal. Sis Jhunu Rani Digal is visually challenged. May be it is the first occasion that a visually challenged person has taken baptism in our church. They were inducted as members of the church this afternoon in the Odia Worship Service. Please uphold them in your Prayers.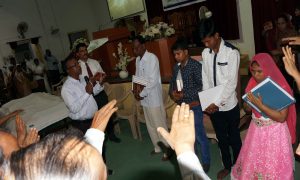 ---