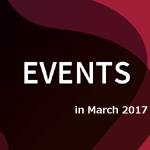 Church Events in March 2017
East Zone Urban Transformation Conference (24-25 March, 2017)
The East Zone Urban Transformation Conference was held in our Church on 24 and 25 March, 2017. It was organized by Evangelical Fellowship of India (EFI) in partnership with Church of Christ (Union Church), Bhubaneswar.
---
The main purpose of this 2-day Conference was to assist urban Christian pastors, mission and lay leaders to understand and impact cities of India for Christ and initiate the process of urban transformation collaboratively. The theme of this Conference was 'Seeking the Peace and Prosperity of the City', taken from Jeremiah 29:7
---
 Urbanization of Christian missions is an urgent and serious need because they determine the destiny of nations. Local Church choir led Worship on both the days. The Plenary Speakers were Rev. Susanta Patra, head of Destiny Today Ministries in Kolkata; Rev. Vijayesh Lal, serving as the General Secretary of the Evangelical Fellowship of India (EFI), New Delhi and Rev. Dr. Atul Aghamkar, who is the Director of National Center for Urban Transformation, Bangalore. Rev. Vijayesh Lal spoke in the evening meetings on both days.
There were special interest groups such as:
1). Ministry among Urban Students; 2). Ministry among Urban Professionals; 3). Ministry among  Migrants in the City; 4). Creative use of Social and Mass Media & 5). Urban Counselling tools for Urban  Healing. The speakers were Rev. Venkatesh Potana, Mr. Jiku Jacob, Dr. Rev. Sunil Kolhar, Dr. Rev. Laji Paul, Mr. Peter Christopher, Mr. Paresh Das, Mr. Sanjay Chaudhari.
Among others our Associate Pastors, many of our church leaders, sis. Smeeta Pramanik from EFI and Right Rev. Bishop S.K. Nanda were present. About 110 delegates attended this 2-day conference which had people from Bihar, Odisha, Jharkand and West Bengal. Those who attended this Conference were thoroughly benefited. May the Lord bless those who will be working in this Urban Transformation. We also thank Evangelical Fellowship of India (EFI) and the Church for organizing such a Strategic Seminar.
---
 

Child Dedication held on 19th March, 2017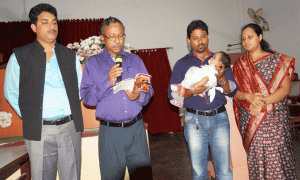 Mr. Sanjay Samantaroy and his wife Ms. Amrita Nayak Samantaroy dedicated their baby girl Bernice Samantaroy in the afternoon Odia Worship Service on 19th March, 2017. Let us uphold this baby girl in our Prayers as she grows in the fear of the Lord.
---
VBS Teachers Meet held on 17th March, 2017
The VBS teachers meet was held in the Church on 17th March (Friday). This was the 2nd meeting in connection to VBS – 2017. The last meeting was held on 15th February, 2017. Both our Associate Pastors and Church Secretary were present along with members from Scripture Union. Teachers Handbooks were presented to the teachers much in advance so they can prepare for this years classes. The meeting ended with a Word of Prayer by our Associate Pastor Rev. B.N. Satpathy. The next meeting is scheduled in mid-week of April, 2017. Please continue to uphold VBS – 2017 in your Prayers.
---
 

2nd Saturday Chain Prayer held on 11th March, 2017
The monthly Chain Prayer was held in the Church on 11th March, 2017. Prayer was held from morning 6 am till evening 6 pm. Various groups came and prayed in the different slots allotted to them. The last 2 hours was for the ladies of the Mahila Samiti, i.e. 4-6 pm. We thank those brothers and sisters who took time of to come and Pray. We need to Pray more as a Church in these days. Please do join us again next month on 8th April, 2017. God bless you all.
---