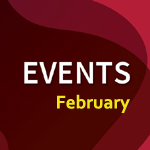 Church Events in February 2017
C.E. Union Executive Committee Dedication Service on 26 February, 2017:
On 28th February, the new C.E. Board took charge as they conducted the Weekly C.E. Devotion Meeting. In this Meeting, Rev. Ayub Chhinchani shared God's Word and all the new members were welcomed and honored by the Pastors. Earlier, the Church Board had assigned a 5-member Supervisory Committee to oversee the functioning of the Christian Endeavour Union which is now a wing of the church and the Mahila Sabha. The Supervisory Committee completed the election of office bearers of the CE Union in a meeting held on February 7 which was adjourned to February 8. The news office bearers of the CE Union for the next two years are as follows: President: Mr. Asish Kumar Das, Vice-President: Mr. Purnananda Pradhan (A), Secretary: Mr. Amit Nayak, Joint Secretary: Mr. Thomas Pradhan and Treasurer: Ms. Puspanjali Rout. 
The Secretary of the Social Action Committee will be Ms. Supriya Pradhan while the Assistant Secretary will be Mr. Sarat Baliarsingh, the Secretary of the Baithak Committee has remained vacant while the Assistant Secretary will be Mr. Chittaranjan Jena, the Secretary of the Look-out Committee will be Mr. Victor Armstrong Singh and Assistant Secretary will be Mr. Bibhudatta Digal. The new members were dedicated in the afternoon Odia Worship Service. The Advisors would be Rev. Ayub Chhinchani (Chief Advisor); Rev. Bichitrananda Satpathy, Mr. Gokul Chandra Pradhan, Mr. Pravat Kumar Chand, Mr. Amos Chandra Pradhan and Mr. Asit Kumar Mohanty. 
---
Sundarpada Church Inaugural Service on 26 February, 2017: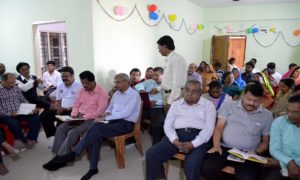 We are extremely happy to inform you that the Lord has enabled us to start a third Worship centre at Sundarpada from today (26th February, 2017). The Worship will be held on every Sunday at 9.30 am at Flat No. A-1, G/7, Hi-Tech Plaza, Sundarpada. Both our Associate Pastors and few of our Deacons including Church Secretary were present for the Inaugural Service. Rev. Ayub Chhinchani shared God's Word in the 1st Service while Rev. Bichitrananda Satpathy presided the Service. Brothers who will be in charge of that Service will be bros. Samuel Nayak, Jashobant Nag and Pravat Kumar Chand. We Praise God for helping us to start this Worship center. Please keep this Worship center in your Prayers.
---
Young Women's Mission Conference on 24-25 February, 2017:
A special meeting for young women in the age group of 18 to 35 was organized in our Church on February 24 and 25. This meeting was being organized by the Indian Evangelical Mission in association with Union Church. The theme of this meeting was 'Useful to the Master' taken from 2 Timothy 2:21 b. The Conference highlights were:
---
1). Bible Basis of Missions 2). Challenge of Youth in India 3). Mission field profile 4). Missionary Biographies 5). Knowing God's Will 6). Personal Evangelism 7). Importance of Prayer in Missions and 8). Missionary opportunities.
---
The different sessions were addressed by Mr. Jenny Christopher, Ms. Elvina Sabu George and Ms. Sheela Pearl Amin. We had nearly 100 ladies who attended the conference over the 2 days. On the final day, we had 19 young girls who committed their lives to full time ministry. Let's uphold them in Prayers. Apart from this, there were Revival Meeting in the evening @ 7 pm on both the days. Bro. Jenny Christopher preached during this meetings. We thank the Indian Evangelical mission and their team for successfully conducting this conference in our Church. It was a real blessed time for those who attended.
---
VBS Teachers Meet held on 15th February, 2017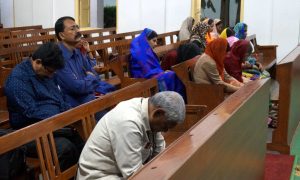 Like last 4 years, this year too, we are planning to organize Vacation Bible School – 2017 in association with Scripture Union and CSSM in the month of May. In this regard, a meeting was held on 15th February, 2017 in Church @ 7 pm. Nearly 25 teachers, Camp Director, Rev. Ayub Chhinchani, and Scripture Union officials were present in this meeting. Church Secretary and local Scripture Union President, Mr. Paresh Das welcomed one and all. After which, Scripture Union Field Secretary, Rev. Manas Mohan Roul shared briefly from God's Word.
He had taken 1 Chronicles 29:1-6 as the Scripture portion for the evening. His theme was 'This is God's Work'. He laid emphasis on the fact that we are doing this to glorify God and it is not for man's glory. Are we truly willing to serve Jesus with joy?
This year's theme will be from 1 Chronicles 29:5b – "I am willing". Then Camp Director of VBS, Rev. Ayub Chhinchani encouraged one and all by asking the teachers to be humble and surrender completely to the Master's will. He said, do whatever you do with all your heart, mind and soul and remember, your labor in the Lord is not in vain. Then Mr. Paresh Das too encouraged everyone present and asked if anyone had any queries! There were a few, which were addressed by Rev. Manas Roul and then the meeting ended with a Word of Prayer and Benediction by Rev. Bichitrananda Satpathy. God willing, the teachers and Scripture Union team shall meet next month same date to discuss further issues.
Please do uphold our precious children, who will participate in this year's VBS. Also Pray for the teachers who will impart education to the children.
---
Prayers offered for Children's Exams on 12th February, 2017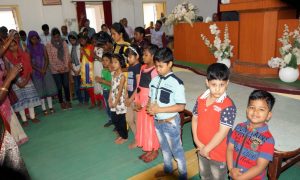 Like every year, this year too we had Prayers offered for our children who will be appearing various examinations this month. In both the English and Odia Service, Prayers were offered by our Associate Pastor, Rev. Ayub Chhinchani. Let us uphold those children in our family Prayers as they prepare to face the exams. May God grant them wisdom and knowledge to help them come out with flying colors.
---
Evangelization Enabling Training Program held on 11th February, 2017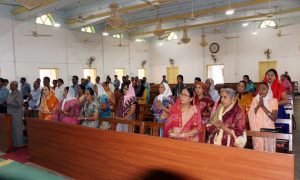 On 11th February, we had an Evangelization Enabling Training Workshop in the Church from 4 pm to 6 pm where God's servant Dr. Joseph Shields, National President of the Gideons International in India was the Resource person. The program was open to all believers in Christ. We had nearly 100 people in attendance. Dr. Sheilds spoke on the subject of Evangelization and the need to reach out to people from other faiths; especially people from the Islamic faith. Members of the Women's Assembly are requested to prepone their prayer time to 3 pm to 4 pm on that day. Those who attended the workshop were thoroughly blessed. We thank Gideons International for conducting such a meaningful seminar in our Church.
---
2nd Saturday Chain Prayer held on 11th February, 2017
The monthly Chain Prayer in Church was held on 11th February, 2017. This month, we had to prepone it to 4 pm instead of the usual 6 pm due to an Evangelical program in Church. We thank all those who came and spend time in Prayer.
---
Water Baptism held on 5th February, 2017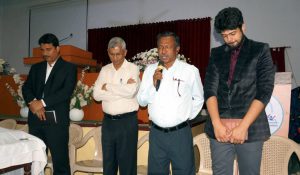 Bro. Siddhant Sarangi was baptized on Sunday morning and he was accepted as full member of the Church in the afternoon Odia Worship Service. Please continue to uphold this young brother in your Prayer as he continues his spiritual journey.
---
World CE Day observed on 3rd February, 2017
The Local C.E. Union observed the World CE Day on 3rd February, 2017 morning with the flag hoisting. Both our Associate Pastors and Church Secretary were present. Among others were members of C.E. Union. Brother Purnananda Pradhan (A) conducted the Oath taking ceremony. Our Associate Pastor, Rev. B.N. Satpathy prayed for the C.E. team. Let us uphold all our CE brothers and sisters in our Prayers.
---