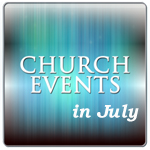 Church Events in July 2018
Chain Prayer held on 14th July
Like every month, in the 2nd Saturday, Chain Prayer was held from 7 am till 12 noon. Various issues were prayed for. It was a wonderful time to join in Prayer as believers. We thank those brothers and sisters who took their time off to spend time at the Lord's feet.
---
Prem-Nalini Das Inter-zonal quiz Bible Competitiion by C.E. Union held on 10th July
The Annual Prem-Nalini Das Inter-zonal Bible quiz competition was held on 10th July in the Church. Participants came from various prayer zones across the city. We thank the C.E. Union for organizing such a wonderful program.
---
Brother Ranjit Singh dedicated as new Church Evangelist on 8th July
Bro. Ranjit Singh has been appointed as the new Evangelist in the church and he joined on July 4. He and his wife sister Taming Sangma and their 3 children were prayed for in the Sunday Worship on 8th July. Please keep him and his ministry in your prayers.
Earlier we had bros. Pratap Sahoo, Sandeep Giri and Gobinda Sahu working as Evangelists. Bro. Singh joins this group. Please keep them in prayers.
---
Water Baptism held on 1st July
5 people were baptized in water on 1st July morning in Church. They were accepted as full members in the afternoon Odia Worship Service. They are 1) Dr. G. Lloyds Raja; 2) Mr. Sujai Vasa; 3) Mr. V. Jaisanth; 4) Ms. Sharon Nayak & 5) Ms. Anusha  Vasa.
Please uphold them prayers as they continue their spiritual journey in this world.
---