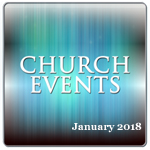 Church Events in January 2018
Workshop on Church Leadership

(26th January)
A Workshop on Church Leadership was organized on 26th January here. Rev. Susanta Patra from Kolkata and Mr. Siddhartha Sahu were the Resource persons. The program commenced @ 11 am and ended after lunch. They explained the concept of church, the mission of the church, integrity and leadership traits. It was a time of blessing for many of us who attended. Surely, this workshop will go a long way in greatly helping us in our collective spiritual growth. We thank the church for conducting such a wonderful seminar. Around 70 people participated in this workshop.
---
Fasting Prayer held on

13th January
A Fasting Prayer was held in the Church in the morning of 13th January, 2018 (Second Saturday) from 7 am till 12 noon where many brothers and sisters joined hands in prayer. We thank them for giving time for corporate prayer. Many issues were prayed for as we sought the guidance and blessings of the Lord as we navigate through 2018.
---
Water Baptism held on

7th January
3 persons were baptized in Water on 7th January morning by Rev. B.N. Satpathy. They are Ms. Swarnalata Pradhan, Ms. Eliza Nayak and Mr. Ajit Prasad Mohapatra. They were accepted as members in the afternoon Odia Worship Service. Please uphold these people in your prayers as they start their Spiritual journey in the Lord.
---
Musical Night by C.E. Union

(1st January)
Like every year, this year on 1st January 2018 evening, the Musical Night was conducted by C.E. Union. There were songs from different participants, with a heart touching skit by the students of Youth fellowship and a special song by the members of the Mahila Samiti. C.E Union President Mr. Asish Das, Secretary Mr. Amit Nayak, our Associate Pastors Rev. Ayub Chhinchani and Rev. B.N. Satpathy among others were present. We thank the members of the CE Union for conducting such a beautiful cultural program. Please do uphold all the members of CE Union in your prayers.
---
New Year Service

(1st January)
May the Favor of the Lord our God rest on us. (Psalm 90:17a). The New year Service was held on 1st January 2018. We had wonderful crowds in both the Worship Services. In the Morning English Service, Associate Pastor Rev. B.N. Satpathy shared God's Word. In the afternoon Odia Service, Associate Pastor Rev. Ayub Chhinchani shared God's Word. We Praise God for helping us through 2017. This is our hope and prayer: May you shine the light of Christ through this Year in 2018. 
---