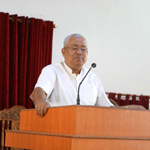 'Church and Mission' by Rev. Susanta Patra (8th July, 2018)
Rev. Susanta Patra preached from Acts 13:47. His theme was 'Church and Mission'. In this passage, the Lord is commanding us to be a witness. His commands are firm and strict; they are terrifying and important; and it requires immediate obedience. We need to understand these 4 things:
a) Our Existence – 'I have made you'.
b) Our Survival – 'Light for the Gentiles'.
c) Our Uniqueness – 'To Bring Salvation'.
d) Our Commitment – 'Reach out to the ends of the earth'.
Are we fulfilling the mission of the Lord! Let us ponder our lives.