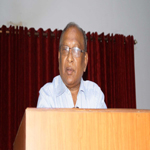 'Christian Stewardship' by Mr. Sushil Kumar Deep, 24th February, 2019
Mr. Sushil Kumar Deep preached on the theme 'Christian Stewardship'. The Scripture portion was taken from Matthew 25:14-30. This teaching is based on the Kingdom of God. There are 4 Principles of the Kingdom of Heaven.
1) Whatever I have in this world belongs to the Lord. I do not own anything. He has created everything; we are only His stewards.
2) He gives us according to our ability. You are the Possessor, but not the owner. Almighty God is the owner. He gives as per our capacity.
3) He has given us to invest the talents in the best possible way for His glory. We need to bear fruits for the Lord and make right use of our time
4) He will come and take account from us. Jesus is coming soon. He will judge us according to the talents He has given to us. We are accountable to Him.
If you want to receive the greatest accolade from the Lord Jesus on that day, then live wisely and invest your everything in the Kingdom of God.