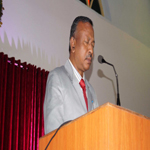 'Christian Parenting' by Rev. Ayub Chhinchani (5th November, 2017)
Rev. Ayub Chhinchani preached from Ephesians 6:1-4. On occasion of the World Sunday School day, he preached on the theme 'Christian Parenting'. He expounded on the word 'CHRISTIAN' as
C – Cheerful, Courageous and Church goer.
H – Hopeful, honest, helpful, hospitable and humble.
R – Responsible, reliable and righteous.
I – Industrious, informed and inspiring.
S – Sincere, slow to anger, sharing with others.
T – Transparent in everything; especially before their children.
I – Instrumental for God's Glory.
A – Alert about their children.
N – Never coveting, never gossiping.
As a family, spend time in Prayer and be at the Lord's feet. Always maintain the family altar. Remember, the family that prays together stays together.