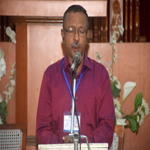 "Christian Fellowship" by Rev. Ayub Chhinchani (26th March, 2017)
Rev. Ayub Chhinchani spoke from Psalm 87; a lesser read Psalm. His theme was "Christian fellowship"; which tells us about the Spiritual health of a Church.
Today God is calling us to live a life which will Glorify the Father in Heaven. We need the fellowship of our brethren in order to live a pleasing life unto God. God Bless us all.