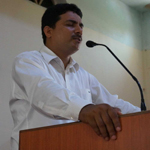 'Celebrating Xmas like the Wise men' by Rev. B.N. Satpathy (24th December, 2017)
Rev. B.N. Satpathy preached from Matthew 2:1-12.
His theme was 'Celebrating Christmas like the Wise men'. The Bible says the Wise Men came from the East. They were people who dealt with astronomy and were learned, but they had only one motive to see the Savior. They met Jesus that day. They came to…
a). To Seek Him
b). To Worship Him.
Have you met Jesus and accepted Him in your heart! If not, do it today.