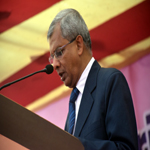 'Brokenness' by Mr. Paresh K. Das, (14th October, 2018)
Mr. Paresh K. Das preached from John 12:20-33. His theme was based on 'Brokenness'. As a Christian, we need to come before Jesus with absolute humility. We need to surrender before Him and completely give our all to Christ. Unless we break and carry on the baggage of this sinful world; He will never use us.
There should be more of Christ in me with each passing day. He will use us if we will be humble like Jesus and live a life pleasing to God.