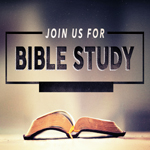 Bible Study (06-05-2020)
The Biweekly Wednesday Bible Study classes are taken by Rev. Songram Keshari Singh. The topic of discussion this week is 'Discipleship & Faith'.
Let us dig further into God's Word tonight and get to know what the Bible says about Discipleship. Please take a patient listen. It will surely be a blessing.