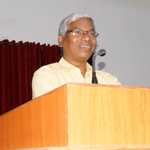 'Be in God's Presence' by Rev. Songram K. Singh, (Odia Worship), 03-05-2020
In the first week of May 2020, as the nation is in Lock down mode, and we are about to enter lock down 3.0; we welcome you to the #WORSHIPFROMHOME online Sunday Odia Worship for you. Rev. Dr. Ayub Chhinchani presided the Service while Rev. Songram K. Singh preached God's Word from John 20:11-18. The theme of his message was 'Be in God's Presence'.
God is eagerly looking for our fellowship. Are we spending time with Him? This afternoon, let us not give any excuse I don't know who took Jesus away from me. He longs to be with His people and He longs for our fellowship. After the message, we shall have the Holy Communion. Stay blessed.