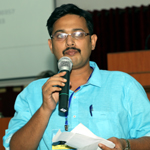 Battling Negativity | WEB SERIES | Episode 6 | Staying Positive | Sandeep Kumar
There are many who are unable to cope with this Pandemic as it is taking a heavy toll on them. We do not need more self-confidence; but we need to cultivate God confidence. You see your name is of value because of the name of the one who formed you; His signature is on your soul. In this last episode, Sandeep Kumar is sharing on Staying Positive through 3 Eternal truths found in God's Word. We hope this web series has been a blessing to you all. Do share with your friends and trust in God. He is in control and He never changes.
|| Special Thanks ||
Church Board (COCUC)
Pastoral Team (COCUC)
Sandeep Kumar (Keynote Speaker)
P. Precious (Anchorperson)
Sandeep Kumar
Do visit our Official Church Website — https://www.unionchurch.org.in
Like us on our Facebook page: https://www.facebook.com/cocbhubaneswar
Follow us on Instagram: https://www.instagram.com/cocbbsr
May you shine the Light of Christ through your life.