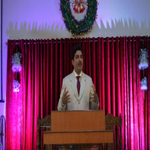 "Achieving goals set this Year" by Rev. B.N. Satpathy (New Year English), 01-01-16
Rev. B.N. Satpathy spoke this New Year – 2016 from Joshua 3:1-17. His theme was "Achieving Goals Set this Year".
Let us live up to the expectations of God and live our lives as per His will. Listen to this message that will set the tone for 2016.