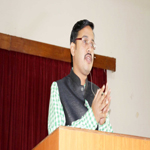 "A Wasted life" by Mr. Sandeep Kumar (31-07-16)
Mr. Sandeep Kumar spoke from Luke 15:11-24 on the life of the Prodigal Son.
His theme was "A tale of a Wasted life". There were 4 scenes in his life:
a). An Astonishing Request
b). An Awful Reality
c). An Altered Return
d). An Awesome Reunion.
Take a listen. Be Blessed.