A Journey from Death to Life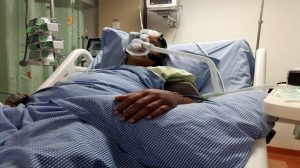 PRAISE THE LORD FOR HIS GLORY
---
I share this testimony to stand as a  witness of my Savior's unfailing mercy who has given me a second phase of life since a year. This testimony is not just any usual story but a real life experience. On 11th Oct 2016, I was admitted in a nursing home at 10.30 pm with the help of my elder son and daughter-in-law  due to severe headache and vomiting. The very next day at 11.30 pm my cardiac system started failing suddenly due to the side effect of drugs and then I had a cardiac arrest. Within the next few minutes the doctors took me to the ICU. They hurried to give me artificial breathing and gave electric shock treatment to revive me. But every effort failed and I was connected to the ventilator. Inside the ICU, they figured that my body was swollen with water and there were several green patches on me as well. I was constantly gasping. The doctors ultimately decided to give up on me and disconnected the ventilator. My pulse rate was alarmingly low and they were ready for my death. There was no HOPE for me. I had never been this close to death. The doctors as well as my family were counting the last few minutes of my death clock. Despite all this, I was conscious and my brain was still functioning. Although, I was not able to open my eyes or lift my hand but I could hear it all. I could hear the conversation of the doctor with my family members and relatives. I was waiting for my death as well. I knew I would die and I was sure about it. As I was drawing close to  death, with my half conscious mind I questioned God "Where is my ultimate place?" I said to him "I can't see hell or heaven yet, I have only seen my  unfinished work on the earth." The journey of death was so painful I had no words to express how I felt at that point of time. I was speechless, could not cry or express any emotions that I was going through. On 14th evening, my family members, relatives and the church members came to see me for the "one last time".
I prayed & my soul cried out before my Lord JESUS saying "If you love me please remember me and be merciful to me to bring me back to life". The broken-hearted prayer of a sinner like me reached the throne of grace and His unending mercy shone on me. That  very moment at 7.30 pm, all of a sudden I saw something. It was like light shining on my bed, I felt as if someone was sitting on my left side. After a few seconds a miracle happened. Two people came to the ICU, announcing my name and said; "we want to see the details of the treatment of Anita Naik." I had no idea who were they but they enquired about every treatment I was going through and asked the doctor immediately to connect a new ventilator with my body. Two hours after the connection of a new ventilator, I was able to open my eyes and also could move my body. My heartbeat was 95 beats/min, blood pressure was normal. What a MIRACLE. "PRAISE THE LORD". Lord JESUS returned my life from death.
This miracle did not occur because I am a righteous woman but it was the "Power of Prayer"- The prayers of my family members, relatives, member of different churches of Bhubaneswar, Cuttack and Church of God, USA (who are my sponsors from my early childhood days). Prayers NEVER fail and God never gives up on you. I am very much thankful and indebted to all my prayer partners who supported me with their prayers and I also request them to continue praying for me so that I can live for JESUS for the rest of my life, who gave me a second life and a second chance to glorify His Almighty name. I want to live for him till my last breath. All glory be to Him.
---
Ms. Anita Naik | Bhubaneswar, India