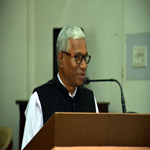 '2nd Session @ C.E. Retreat' by Rev. Songram Keshari Singh (15th June, 2019)
Rev. Sangram Singh spoke on the theme 'Religion v/s Gospel' in the 2nd session of the Undivided Puri District C.E. Retreat.
Are we concerned for our own selfish ends or are we truly burdened for the sake of the Gospel? Let us retrospect our lives.