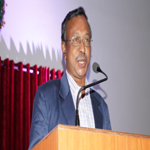 'You are Valuable to God's Kingdom' by Rev. Dr. Ayub Chhinchani (12th August, 2018)
Rev. Dr. Ayub Chhinchani preached from Luke 19:1-10. His theme was 'You are valuable to God's Kingdom'. There are 3 things worth noting here:
1) Jesus notices you. He recognizes you and never forget, He is interested in you.
2) Jesus can lift you up from any situation. You just need to call upon His name.
3) Jesus wants you dearly as you are precious to Him.
He is inviting us to have a personal relationship with Him. Remember, Jesus never came to condemn us, but to save us.