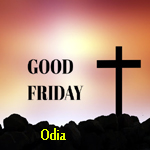 'Why have you Forsaken Me?' by Rev. Songram Keshari Singh (Good Friday, Odia), 10-04-2020
Due to COVID – 19, we are locked down in our homes. But, Praise God that we can worship HIM online in our homes. The Good Friday Odia Service was presided by Rev. Dr. Ayub Chhinchani and we had our Pastor Rev. Songram Keshari Singh sharing God's Word.
The Scripture portion was taken from Matthew 27:45-49 and the theme was 'Why have you Forsaken Me?'. When Jesus took all our sins on His behalf, he was all alone. He is crying out to God, Why have you forsaken me Lord?
1) There was darkness around the Cross: There was a Darkness of Sympathy; Darkness of Assembly; Darkness of Solemnity; and a Darkness of Secrecy;
2) There was Loneliness on the Cross: Jesus was lonely in His last journey.
3) There was Blindness before the Cross.
Stay blessed in God's Word.