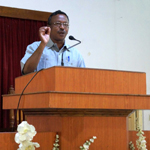 'Why God allows Suffering!' by Rev. Dr. Ayub Chhinchani (1st July, 2018)
Rev. Dr. Ayub Chhinchani preached from 2 Corinthians 1:1-11. His theme was 'Why God allows suffering!'. Many times we may have asked this question, 'Why me Lord!'. Let us remember that afflictions and hard times works for our benefit.
1) v.3-5 says that afflictions draws us closer to the Lord. The Lord never leaves us alone.
2) v.6 says that afflictions are for the benefit of others. Sometimes, God allows suffering so we can equip others.
3) v.8-10 says afflictions empties us of all self-reliance. Let us not forget that Christian life is an inter-dependent life.
4) v.11 reveals the true power of prayer in afflictions. You can help others through your earnest prayers. You can advance the Kingdom of God through prayer.
God bless you all.