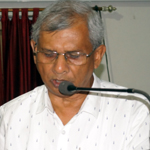 "Who touched me!" by Mr. Paresh Das (22nd October, 2017)
Mr. Paresh Das spoke from Mark 5:21-34. His theme was 'Who touched Me!' In this incident, we see the healing of the woman having the issue of blood for 12 long years. She had waited long enough to be healed till this day when she received her healing by touching the hem of His garment.
The greatest problem plaguing mankind today is 'Sin'. Are you among the one who had been forgiven of your sins by Jesus and still keeping quiet! If you have tasted Jesus, then make Him known to others.
Remember no religion can save you; only Christ can. Stay Blessed.