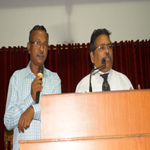 "Where was Jesus on Saturday!" by Rev. Subhash Dongerdive (Holy Saturday Service), 15th April, 2017
Rev. Subhash Dongerdive was speaking this Holy Saturday evening from 1 Peter 3:1-18. His theme was 'Where was Jesus on Saturday!' There are 3 places which he visited on this day:
a). Jesus was in Paradise on Saturday (Luke 23:43). Paradise is a place of true bliss
b). Jesus visited and ministered to the Spirits in Prison (1 Pet 3:19-20)
c). He went to Hades.
As Christians, we should look at Life after Death. You choose and choose now. Tomorrow will be too late. Choose Paradise/Hades!