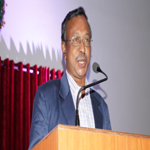 'What is Gospel' by Rev. Dr. Ayub Chhinchani (10th June, 2018)
Rev. Dr. Ayub Chhinchani preached from Luke 4:16-21. His theme was 'What is the Gospel!' Yes, the Gospel is Forgiveness of Sins; yes the Gospel is Justification by Faith, but that is not all. Every time Jesus spoke about the Gospel, He talked about the Kingdom of God.
Remember, the Messianic Kingdom of God has two aspects: The vertical aspect and the horizontal aspect. If it is so, then we have a responsibility as a believer to share this Glorious Gospel of Jesus Christ.
Today, what our world needs is the full Gospel and every Christian should preach and live JESUS.