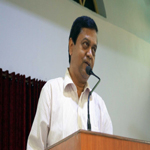 'What is Church?' by Prof. Anup Samantaray (Prayer Week, Day – 3), 08-01-2020
Prof. Anup Samantaray preached on the theme 'What is church?' from Acts 2:41,42 & 47.
As a church what is our responsibility towards others? Like the Early Church, we need to be proactive in these last days. Let us be a witnessing church and build up one another.