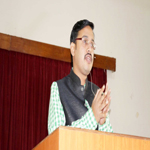 "What God Expects of a Believer!" by Mr. Sandeep Kumar (30th April, 2017)
Mr. Sandeep Kumar spoke from Deuteronomy 10:12,13. His theme was 'What God expects from a Christian!'
There are 5 things that are very important.
a). Fear God b). Walk in His ways c). Love God d). Serve Him e). Obey Him and His Commands.
When we do that, we can truly be called His children. People will see our good works and it will Glorify our Father in Heaven.