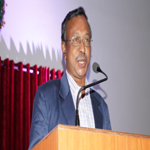 'What every Christian should do!' by Rev. Dr. Ayub Chhinchani, (2nd September, 2018)
Rev. Dr. Ayub Chhinchani preached from Romans 1:8-15. His theme was 'What every Christian should be?' Paul was the living example to us all of what a genuine christian should be! Every Christian should:
1) Be thankful: Are you truly thankful to God today!
2) Be Committed: You need to render pure, heart felt service and devotion to the Lord.
3) Be Prayerful: Does your prayer involves others? Bear each other's burdens.
4) Be Surrendered: Always place His will over everything in your life.
5) Be Usable: Can you honestly say your life is a vessel that God can use.
6) Be Humble: We should be humble and respect one another.
7) Be Fruitful: We should not only be selfish, but always Glorify His name in everything we do.
8) Be Obligated: We owe a debt to every person who lives around us.
Live in God's Will and be a blessing to this dying world.