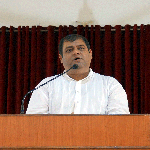 "Walking with GOD" by Rev. Vijayesh Lal (26th March, 2017)
Rev. Vijayesh Lal spoke from Hebrews 11; known as the Hall of Fame of Faith in the Bible. His theme was "Walking with GOD".
This word 'Walk' is very central in our Christian life. So, let us get into a daily habit of
1). Walking with Him; 2) Intimacy with Him; 3) Re-evaluating our Priorities. God Bless us all.