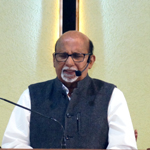 'Waiting' by Rev. Bijoy Kumar Das (30th September, 2018)
Rev. Bijoy Kumar Das preached from Psalm 130. His theme was based on 'Waiting'. Many Bible characters had to wait in some point of their life. There are 2 things we need to understand here:
1) Why do we have to wait!!!
The 1st great reality in life is suffering.
The 2nd great reality is GOD. Remember, God works through our waiting.
2. How we should wait!!!
Waiting time should be an active time. It should be a time to trust in God. Let us not forget that waiting is 'Redemption' not 'Suffering'.