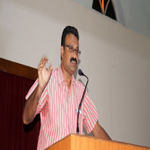 'Wait and hope in the Lord' by Rev. Samuel Somalingam (22nd September, 2019)
Rev. Samuel Somalingam preached on the theme 'Wait & hope in the Lord' from Lamentations 1:1-3 & John 1:5. Amidst all the pain and darkness, there is always hope in the Lord.
Jeremiah remembers 4 things and hopes in…
a) God's Love
b) God's Compassion
c) God's Faithfulness
d) God's Salvation.
Waiting teaches us dependence on God.