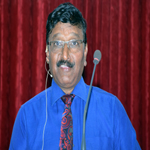 'Truths about Holy Communion' by Mr. Jenny Christopher, (Passion Week), Maundy Thursday, 29th March, 2018
Mr. Jenny Christopher preached from 1 Corinthians 11:17-26. His theme was based on the 'Truths about Holy Communion'. There are 3 dimensions of the Holy Communion we need to understand:
1). Physical : You can partake of it if you saved and washed by His blood. Come together to partake of it.
2). Mental : Do this in Remembrance of Me. Just imagine the Love portrayed on the Cross. Am I thinking of this great Sacrifice!
3). Spiritual : Communion means fellowship/partnership with the Lord Jesus. We should be willing to suffer for the Gospel. And when we participate with Christ and His people, it is about sharing. When we partake, we have the responsibility to proclaim the Love of Christ to the world.
God bless you as you listen to this message.