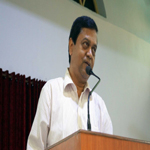 'Trust in God' by Prof. Anup Samantaray (English Worship Service), 26-04-2020
This Sunday morning, the Worship was conducted by Rev. Songram Keshari Singh and we had God's servant, Deacon Prof. Anup Samantaray sharing God's Word from Proverbs 3:5-6. The theme of his message was 'Trust in God'.
Our faith meets with fear at a cross road. The area you fear most is the area where you need to trust God takes a whole-hearted commitment from dawn till dusk. But, we are never alone in it.
Then we have the Eternal Promise of the Lord Jesus: 'I am with you always, to the very end of the age.' (Matthew 28:20b). Be blessed in God's Word.