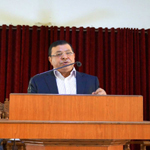 "True Freedom and our Responsibility" by Rev. P.R. Misra (29th January, 2017)
Rev. P.R. Misra spoke from Ezekiel 3:17-19. His theme was "True Freedom & our Responsibility".
We have the role of a Watchman and we need to share the Glorious Gospel of Christ; because He has chosen us and will reward us. His Love constrains us to serve Him with Passion.